About Miranis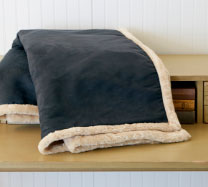 Blankets are about people. In simpler times, one's sense of well-being came from having the basics: a crackling fire, a hot cup of coffee, a dry place to sleep and a warm blanket to curl up in. From our first breath, we are warmed, protected and comforted by blankets. Miranis Blanket is built upon these values, creating products that will become treasured household possessions.
Whatever your need, whatever the occasion, Miranis has the perfect item. For luxurious blankets and stylish gifts, think Miranis Home Collection.
Customer Care
We bring warmth and comfort to millions of people all over the world. We're proud of the work we do, developing top quality products that will stand up over the years. Your reviews and feedback have kept us motivated. We love hearing from our customers, and we hope you know that we strive to make the best blankets possible, and guarantee that they won't let you down.
And even more importantly, we maintain our obsession with creating the softest, coziest, most comfortable blankets.
Our Family of Brands
Aniko Kids – a modern, dynamic company offers its high quality baby blankets, while the world of Al-Masrur prayer mat concepts invites you to discover its unique creations designed for your prayer.